Unmatched Response TimeAttention to Detail100% Satisfaction
Aztec Construction & Restoration is the North State's Emergency Restoration Professionals
Wind Damage
A tree fell on my home or business. What do I do? First, call Aztec to get emergency...
Click for More
Water Damage
Water damage cleanup or water restoration is so advanced that they have developed a word for the...
Click for More
Fire/Smoke Damage
Understanding the effects of a fire The following information is provided to help owners evaluate the damage to...
Click for More
Mold Damage
& Mitigation
Mold can grow and spread just about anywhere moisture and a food source are present: walls, carpet,...
Click for More
Employment
Opportunity
Are you a hard working, hands on self starter looking for an opportunity to develop and perfect skills in the construction and restoration field? Apply today!
is your business
Certified Public Ready?
are unrivaled in the industry. Aztec works hard to maintain a standard of practice for complete and thorough cleaning, disinfecting and decontamination often found only in the very best medical facilities. We will assess, contain and eliminate all possible threats to the public with regard to communicable viral diseases.
Please contact us to learn more and/or get your free quote started today.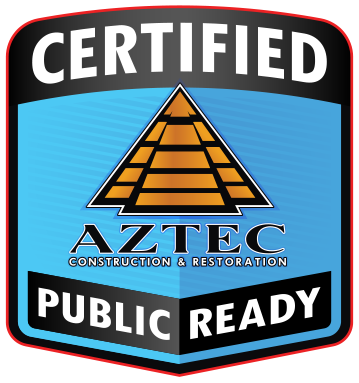 Need a Complimentary Consultation?
Have you or someone you know suffered property loss or damage from Wind, Water, Fire or Smoke Damages? Call Aztec today and let us help you feel out your options moving forward. We will come and walk your property with you in person to better assist you in planning your next step. Call 530-275-3327 today to get started.
"Everyone we had contact with from Aztec were GREAT. Pleasure doing business with these wonderful people."
"Aztec Construction & Restoration, sent 2 GREAT LADIES to our home today to help us in our hours of need. They did everything required of them and more. We couldn't be happier. Awesome!
Looking forward to working with Aztec in the future.."
"Our client stated that she was amazed with Aztec and very happy with the results. She had nothing but great things to say."
When we had the ceiling and roof cave in and water damage to the wood floor, I called Aztec Construction, as I personally knew Scott Birondo. Scott and his crew were quick to respond and they immediately started on the process of drying out the floors and repairs of the damage that was done. They did a magnificent job of handling our claim. I am so impressed with the outcome of our repairs and would actually say that our home is improved from the process. I would like to personally thank Aztec for a job well done. The work was exemplary and the workers were always professional and courteous."
"Thank you all for a great service! As a customer AND an insurance agent I can say I'm completely impressed with Aztec. Thank you guys for rushing out and giving me a hand with my own homeowners insurance claim! Even with over 2 feet of snow left on the ground in Glenburn, a lost driveway and a stuck van, you still managed to pull it all off! I'll definitely be referring my homeowners customers to you in the future. - Happy New Year"
"…I would like to thank you and everyone else who worked on my parents house, for your professionalism, & the "GREAT JOB" that was done...We are totally satisfied..."
"Hi Scott, Thanks again for all of your time yesterday. It really did help me to feel that there was someone there that had experience, knowledge, and is on our side. I just wanted to let you know how much it was appreciated and please thank Dee Dee for me. Her timing and approach worked very well for me. I never felt like anyone was trying to sell me something."
"We would recommend Aztec Construction without hesitation. We look forward to a continued relationship."
"I recommend Aztec as a talented and experienced professional team..."
I am very pleased to recommend Aztec Construction as one of the best construction firms I have had the pleasure of working with... and will not hesitate to use them again.
Our client stated that she was amazed with Aztec and very happy with the results. She had nothing but great things to say.
I want to thank you folks for your prompt work and attention to detail. Having the responsibility of servicing over 21 City's here in Northern California keeps me very busy. Knowing that when you folks are assigned to the claim keeps my mind at ease that all will be taken care of.
Aztec was there during our water damage needs. Scott and his crew took care of everything from start to finish making this experience something wonderful. Outstanding customer service with excellent communication. We recommend Aztec.
Scott and his team did an outstanding job. From the Emergency service, to all the repairs, our expectations were exceeded by outstanding customer service. I recommend Aztec Construction and Restoration to everyone
Have we already performed an emergency Wind, Water, Fire, Smoke or Mold repair for you?
Let us know how we did...
Please rate our performance!
Thank You!