Is Your Business
Certified Public Ready?
Aztec can rid your location of the possiblity of infectious disease and get you open for business in no time.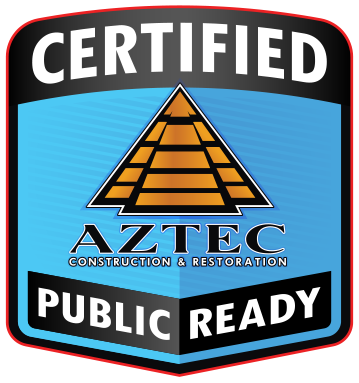 In the wake of today's social climate your cleaning practices have become paramount. If you want to maintain the public's trust and create a sense of safety in the minds of your patrons your business should be regularly cleaned under the medical safety standards provided by CDC, WHO and California Department of Public Health.
Aztec is certified by the CDC, and has been mitigating biochemical, public health and other hazardous situations for 20+ years. Our company takes great pride in complete and thorough practices to ensure zero public risk at all cost.
Call us today to find out how we can work to eliminate all possible threats to your customers. Whether you provide basic retail, maintain a public lobby or operate a full scale, high traffic food service business. Aztec Construction & Restoration has the capacity, equipment, experience and knowledge base to ensure decontamination and ease the minds of yourself, your staff and your customer base.
Fill out the form below for a free quote for getting your business Certified Public Ready!
Wind, Water, Hail, Fire, Smoke & Mold Damage Repair
We respond to all forms of emergency property damage repair. Go »

Expert Restoration w/ Over 20 Yrs Experience
Aztec has what it takes to get your property damage quickly and safely taken care of. Go »